Comedy weekenders having been running in Brighton for over 10 years, now it's time to expand our horizons.
We are pleased to announce the first of our International comedy courses is taking place late August in Basel, Switzerland. You can come with friends or partner or have a holiday on your own, learn new stand-up comedy  skills while meeting new friends on these super sociable weekends.
The Basel Comedy Weekender – Need to know
This is a 2 day course. The numbers on this course are strictly limited for individual feedback and advice, therefore booking is essential. A good standard of English and a notepad are essential.
Saturday 9.30am arrival with 10am start, finish 4pm
Sunday 10am start, finish 4pm
Paddy Reilly's Irish Pub & Restaurant is located at Heuwaage, just 5 minutes walk from the centre of town and the main railway station.
Standard 495 CHF                                                              Early bird CHF
A confirmation email will be sent within 48 hours with all weekend details.
We often have people coming back time and again on these courses so there's every chance of seeing a friendly face on these comedy holiday weekends.
The Graduation Comedy gig
After completing two of Internationals weekend comedy courses, you will have the opportunity to perform in front of a live audience. You can take both courses in your own city or why not travel to another city. You can take as many weekend courses as you like to build and work your newfound skills.
There will be new destinations and weekends announced soon. Stay tuned and please get in touch if you'd like a course in your country. We aim to please.
What they had to say:
"I attended the comedy weekender a couple of weeks ago and left both motivated and educated in comedy.
Louise is an exceptionally encouraging teacher and her techniques on how to write material helped the group produce some very funny moments on stage just like we were at a real gig.
The group was great fun, some having returned for a second weekend having enjoyed the first and had been developing their material which made for a hilarious weekend with lots of mutual support and encouragement. Louise has inspired me to continue writing and I plan to go to a comedy open mic night and attend the next comedy weekender that Louise is running in March.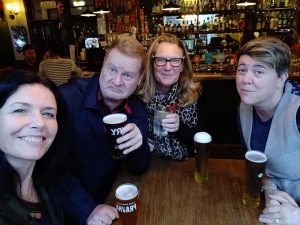 I have also booked to see a number of the lesser known comedians to see if I can get some performance tips.A big thanks to Louise for a great weekend and sharing your wealth of experience and knowledge with us that made me feel comfortable and want to get more involved in comedy. I hope to come down to Brighton in December and see your next graduates perform." Sharon Barlow