Comedy weekender holidays have been running for over ten years now. Mainly in Brighton, London and Spain. A perfect mix of fun, learning, social and team work. We often have people coming back time and again on these courses so there's every chance of seeing a familiar face on these comedy holiday weekends.
Our next International comedy course is taking place in…..wait for it……BARCELONA.
You can come on your own or with friends/partner and learn stand-up comedy skills while meeting new friends on these super sociable workshops.
COURSE CONTENT
You'll learn techniques on delivery and timing which will help with confidence and presenting in general. We will be writing, performing and using techniques from the world of comedy to tap into to your own comedy genius. It will completely transform how you present.
We will concentrate on a different aspect of comedy and then perform a small piece of material integrating the delivery and stage techniques that we've learnt. Everyone gets to perform and everyone receives feedback (and usually laughter,) in return.
The coaching environment is designed to bring out your comedy genius and help you shine.  A safe safe space with like minded human beings. There's also the opportunity to socialise with the group for drinks after, should you so wish.
The Comedy holidau – Need to know
This is a 1 day course. The numbers are capped for individual feedback and advice, therefore booking is essential. A good standard of English and a notepad are essential.
Dates:  Friday 12th 2022
Times: 10am start, finish 4pm
Where: This course will be held in the heart of Sitges, Barcelona.
Course venue: Queenz restaurant and bar is an excellent venue for our comedy course, with a stage, mike and lights set up for a professional stage experience.
Address: Espalter 2, 08870 Sitges. Tel. +34 937 978 657
Accommodation: Only five minutes walk from the course venue. The owners of the fantastic Hotel Alexandra have kindly offered us a 10% discount. Just mention the comedy course when booking.
Socials: There's always a lively group on the courses and you can join in as much or as little as you like on the socials. Friday night, we will go for drinks locally after the course.
Flights: Found reasonable prices with Easyjet though there are four main airlines that can get you from the UK to Barcelona, Easyjet, Vueling airlines, Jet2, Thomson Airways, British Airways and Ryanair.
BOOK YOUR PLACE ON: THE COMEDY holiday
     £100

A confirmation email will be sent within 48 hours with all weekend details.
PLEASE NOTE: We have provided recommendations & discounts for accommodation though they should be booked independently and the £100 is for the comedy course only.
The Graduation Comedy gig
After completing two of Internationals weekend comedy courses, you will have the opportunity to perform in front of a live audience. You can take both courses in your own city or why not travel to another city. You can take as many weekend courses as you like to build and work your newfound skills.
There will be new destinations and weekends announced soon. Stay tuned and please get in touch if you'd like a course in your country. We aim to please.
What they had to say:
"I attended the comedy weekender a couple of weeks ago and left both motivated and educated in comedy.
Louise is an exceptionally encouraging teacher and her techniques on how to write material helped the group produce some very funny moments on stage just like we were at a real gig.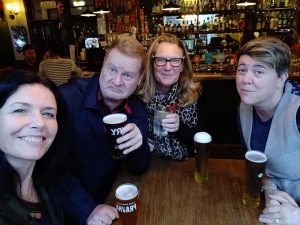 A big thanks to Louise for a great weekend and sharing your wealth of experience and knowledge with us that made me feel comfortable." Sharon Barlow.
Check out our Facebook page Brighton Comedy Course for more reviews.
The most repeated feedback is "I wish I hadn't put it off so long and just took the plunge."
ANY QUESTIONS?    
PLEASE FEEL FREE TO
DROP US A LINE.
OR GIVE US A CALL.