Wherever you are in the World- You can now take a Comedy Course.
These courses run over 6 weeks and are specifically designed to get the most out of the online experience. You'll share in the much-needed laughs, connect with likeminded folk, and learn everything you need to know about stand-up comedy. This is an excellent opportunity to tap into your inner comedy genius and dip your toe in the comedy waters. This course has been adapted from our highly acclaimed, 5-Star, Beginners Comedy Course.
Course Details
Brighton Comedy Course has delivered internationally acclaimed stand-up courses for over ten years. The courses are the most established comedy courses in the UK and unlike other courses, we have capped numbers on this online course to ensure everyone has the opportunity to share their material and receive feedback every week, should they wish to.
There are plenty of writing exercises which often result with the class in stitches and frequently end up as material. There's all the team dynamic of the live and in-person courses. We will have the shared goal of the graduation gig at the end where we can invite guests to watch our performance.
There are weekly homework tasks, resulting in a tidy stock pile of material. Our Facebook page Brighton Comedy Course has interviews and reviews from previous students. Please have a look.  The most repeated feedback is "I wish I hadn't put it off so long and just took the plunge."
This is a safe and fun way to try out comedy courses. You will gain knowledge on sourcing, writing, editing, and structuring material. Insights on confidence, comfort zones, mindset & beating nerves. Know-how on opening and closing lines, delivery, timing & stage performance techniques. Understanding of audiences, joke formulas, comedy genres, and hecklers.
How does it work?
When you book your place, you will be sent a confirmation with the link to the course. There will also be pre-work provided so that you get the most from the course.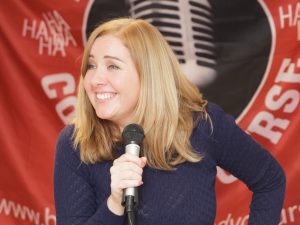 The tutor
Louise Stevenson is a Stand-up Comedian, Comedy Coach and Author with over 20 years Comedy industry experience. As CEO of Brighton Comedy Course, Louise has a solid background in helping aspiring comedians realise their dreams and has acquired a reputation for delivering quality stand-up comedy courses with consistent 5-star reviews over the last decade.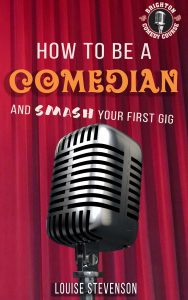 Her best-selling books How to Be a Comedian and Smash Your First Gig and The New Comedians Handbook are available on Amazon on Kindle and Paperback.
Book Your Place on the International Online Comedy Course
Date: November 18th 2020
Time: 7pm-9pm (6 Wednesdays.)
Price: £195

2021 Dates
January 28th
May 13th
Book all dates on the Book Now button (above,) and receive welcome instructions and course confirmation within 48 hours. Date desired will be booked in at that time. All course places are on a first come, first served basis. Book Early to avoid disappointment.