Welcome to Brighton Comedy Course
Do you want a Stand-up comedy course or Presentation Skills training with a difference? Brighton Comedy Course delivers internationally acclaimed comedy courses. Our highly recommended Public Speaking & Pitching Courses, 1-2-1 Leadership coaching for corporates are well documented on LinkedIn reviews and are available through our sister company, Speakeasy Coaching
We create a space to help people relax, breathe and be funny. If you want to be more confident, crush your fear of public speaking and hone your presentation skills then this is a fun way to do it. Everyone has it in them to be funny. We truly believe that. Confidence is the key ingredient to bring out your comedy genius and shine.
Our Courses Include:     
what type of person comes on a comedy course?
Do you want to be a stand up comedian? People come on the courses for many reasons, you might just want a challenge, to meet new people and have some laughs. At an absolute basic you'll never fear Presentations and Public Speaking again, hell; you may even start to enjoy it!

People wrongly assume that everyone who comes on the courses is an extrovert with bags of confidence. It's not the case. It's terrifying to most people the idea of doing stand up, but with expert coaching people gradually, and sometimes suddenly, cut through the barriers of their comfort zone, throw caution to the wind and thrive.
Often people describe the graduation gigs as one of the best experiences of their lives!
What's different about our Comedy Courses?

We cap numbers to ensure everyone has the opportunity to perform and receive feedback EVERY WEEK. The coaching is designed to enhance confidence, delivery and timing.
We believe stage-time is crucial to improve your comedy, after the graduation gig, so there is no "Signing off process" which prohibits you from performing until deemed fit, unlike other courses.
The coach, Louise Stevenson, is a working comedian who regularly performs and comperes at comedy nights and comedy festivals. It's beneficial to have a tutor who's actually a comedian, who knows the job and the challenges that arise day to day.
About Brighton Comedy Course

Louise Stevenson is the CEO of Brighton Comedy Course. She is a Scottish Female stand-up who started her comedy career in 1999 on the New Zealand. Louise went on to work the London circuit for many years and regularly performed at The Kings Head, The Comedy Store and Banana Cabaret. Scotland gigs include The Stand comedy club in Glasgow and Edinburgh. Louise still regularly performs on the circuit and at corporate gigs.
Louise is best-selling author of How to be a Comedian and Smash your First Gig, and The New Comedians Handbook. She performs alongside Jimmy Carr, Alan Carr, Rich Hall and Steven K Amos among many others. She was knocked out of Channel 4's 'So you think you're funny' competition by Russell Brand.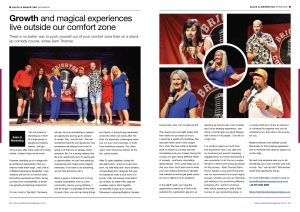 Louise's television appearances include Channel 4, Melbourne's Channel 31 and BBC. Louise is a regular performer at the Edinburgh Fringe Festival and featured in a sell out show 'Scotland's Best and Guests.'
Here's a clip of Louise in action. Parental Advisory- The odd swear word included! (She is Glaswegian.)
did you know?
Do you want a funny wedding ceremony? Louise is also an Independent Celebrant who specialises in Weddings, Funerals, Naming Ceremonies, Vow renewals, and Master of ceremonies. Her background in stand-up comedy ensures a breath of new life into your ceremony and a cool, calm, head under pressure. She works hard to really get to know the person/persons at the heart of the ceremony and takes great pride in frequently being mistaken for an old family friend at ceremonies.
If you want a ceremony that is fun, professional, heart-felt and never boring, then Get in touch and let's create an unforgettable ceremony.
ANY QUESTIONS?
FEEL FREE TO
DROP US A LINE.
OR GIVE US A CALL.
Here's an interview with a graduate Jay Chappell. (Parental Advisory – the footage contains a swear word.)