Brighton Comedy course brings you this one day event on all elements of Public Speaking.
This event runs twice a year and is limited to a maximum of 12 to ensure individual feedback for each attendee. If you present and pitch for business, this event will help you produce engaging, concise and interesting content and deliver it with confidence on this one day event.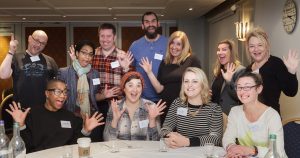 Whether you're pitching for business, delivering a keynote speech or presentation, you will learn the methods and techniques to enhance your confidence, get your message heard and make a difference in the way you present and pitch forever. This workshop is invaluable whatever stage of public speaking you are at.
The class will cover;
How to be more confident in presenting
How to be clear in your objectives to achieve and exceed your expectations
How to craft interesting content that packs a punch
Expert tips on how to overcome fear of public speaking and become more comfortable when presenting to a group of people
How to inspire your audience to fulfil your aims
How to stand out from the crowd by injecting humour that engages your audience in a professional way
Techniques to improve your public speaking skills, including structuring, writing engaging and interesting content and effective body language
How to prepare and deliver presentations successfully
How to engage, influence and persuade an audience
Learn effective memory techniques that will make sure you don't go blank
Need to know
The session will start at 10am; we will stop for lunch between 12pm and 1pm and finish at 3pm. The numbers in this session are strictly limited for individual feedback and advice, therefore booking is essential.
Book your place on Pitch & Present for Success
Date: February 26th 2021
Time: 9.30am-3pm
Location: Brighton
       Cost: £160                                   

WHAT'S NEXT?
Paypal will confirm payment on booking. A welcome email confirming your course place will follow (within 48 hours) containing any pre-work requirements. BACS payment is possible. Contact us for details.
OTHER PUBLIC SPEAKING OPTIONS INCLUDE:
What people say about Louise's training:
"This is the BEST thing I have ever done. I run a business, and often have to stand up in front of large groups, and present. This course has taught me to prepare, taught me to gain audience attention, know when I have that attention, and roll with it. It has totally changed my presentation delivery, and preparation – It's BRILLIANT. A worthwhile investment for any company!" Jim Cunliffe, Facemediagroup.co.uk