START COACHING. GET RESULTS
We know that Public Speaking can be scary so our aim is to provide a safe, relaxed and fun space to experiment and grow in. Communication skills, allow us to progress in the working world and in our personal life. It's fair to say that Public speaking is one of the most important and most dreaded forms of communication.
121 Coaching is a sure way of fast tracking your ability as a Public Speaker. Coaching can be virtual or in person. This bespoke coaching will help you communicate your passion and deliver a talk that makes an impact. We will help you create engaging content that's well structured, with clear objectives and deliver it with confidence and style.
This step-by-step training encompasses proven strategies and tools that you can apply immediately to transform your Confidence and Public Speaking abilities. One to One Coaching is ideal for clients with specific objectives who want a concentrated experience.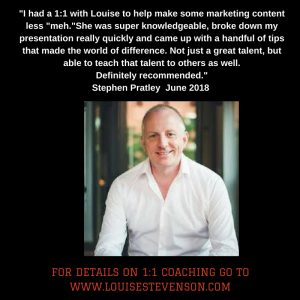 Our coaching has helped clients with TED talks, Corporate Business Pitches, Online presenting, Networking presentations, Best Man & Father & Mother of the Bride speeches.
    The coaching will cover;
How to be more confident in presenting
How to bring your own personality and tap into a more natural style
How to be clear in your objectives to achieve and exceed your expectations
How to craft interesting content that packs a punch
Expert tips on how to overcome fear of public speaking and become more comfortable when presenting to a group of people
How to inspire your audience to fulfil your aims
How to stand out from the crowd by injecting humour that engages your audience in a professional way
Techniques to improve your public speaking skills, including structuring, writing and effective body language
How to prepare and deliver presentations successfully and make them memorable
How to engage, influence and persuade an audience
Learn effective memory techniques that will make sure you don't go blank
How it works;
 Give us a call or drop an email to arrange an initial consultation. We'll discuss previous speaking experience, aspirations and any possible deadlines.
Decide what package option best suits you. Book first session.
On the first session you will be asked to deliver a 3-5 minute talk in order to produce a plan of action tailored to your needs. Future dates are booked.
There will be tasks set in between coaching sessions to compliment the coaching and excel your new found skills.
Sessions can be online, at your premises or at our offices in NatWest, 149 Preston Rd, Brighton, BN1 6AF
Pricing Structure
 All sessions are for two hour basis, unless objectives require longer blocks.
4 sessions (8 hours coaching)      £795
8 sessions (16 hours coaching)    £1,450
14 sessions (28 hours coaching)  £2,495
  Individual coaching can also help with;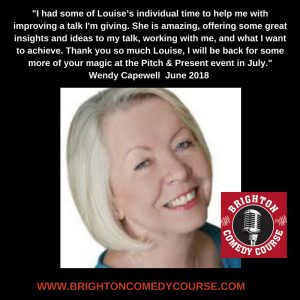 Winning new business pitches
After dinner speeches
Charity events
Improving sales pitches
Leadership training
Elevator Speeches
Networking effectiveness
   Call us on  075 3344 0506 to discuss your individual goals . Or email louise@brightoncomedycourse.com