PHIL JERROD
"Casual brilliance" – The Guardian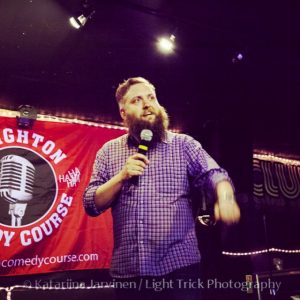 In March 2012 I received an email from Phil Jerrod three days before the beginners comedy course started. There's nothing like leaving it last minute! Luckily there was a cancellation so he was able to come on board.  He was juggling his full time job in publishing and a PhD.
He certainly did shine and I knew with hard work & determination that Phil would make it to the big time.
Well, talk about fast track, they say rule of thumb is around 8 years for a comedian to work the circuit and make their mark. In less than two, Phil was signed up by one of the biggest agencies in Britain, Off the kerb, agents of Dara OBriain, Allan Carr, Jo Brand among many.
Phil plans to take another show to the Edinburgh Festival again as soon as he can.  I am so pleased for him and know it won't be long before we see him on our screens. Look out for him, the bearded fella.
Here's what Phil said about Brighton Comedy Course
"I enjoyed the course very much. I felt really prepared for my first gig, properly rehearsed. I liked the space given to performance time, this was the most helpful part of the course, actually standing up and trying to be funny and getting feedback on what you'd done.
The course was well structured and built nicely towards the final performance. It was good value for money, in retrospect it is possibly under priced. The content is definitely worth the money. This course was one of the most rewarding things I have ever done. "
Here's what the reviewers say out Phil;
"Insightful, despairing wit" – The Scotsman
"Razor sharp timing" – Ed Fest Magazine
"A very funny hour of stand-up " – Broadway Baby
"Definitely one to watch" – The List
"Made me genuinely laugh out loud" – The Brighton Argus
Articles on Phil
http://www.bn1magazine.co.uk/phil-jerrod-offthekerb-brighton/