The Advanced Stand up course is for people who have already completed The Beginner's Course, The Comedy Weekender or who have experience of working on the comedy circuit and are serious about comedy.
This weekend course is for comedians who want to up their game, get their mojo back and see a real improvement in their comedy. It's an opportunity to step back and assess how your comedy's going. What's working well and what needs improving to be the best comedian you can be.
There's pre-work before the weekend so that you get the most out it. There will also be homework to do on the Saturday night so make sure you put aside a few hours before the socialising begins. You're more likely to succeed in comedy when you have clear objectives, check ins and deadlines.
There's advice, practical exercises and tips on how to edit existing material and brainstorm new material. You may want to challenge yourself to write a whole new set from scratch over the weekend. We'll be looking at case studies from successful working comedians, as well as plenty of tips on how we can up our game.
There's also plenty of tips on technique and delivery in Louise's book, How to Be a Comedian and Smash your First Gig.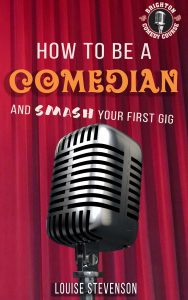 There will be gig analysis for those working on the circuit, what worked, what didn't and why. How can we improve our sets? We will look at more complicated joke techniques and aim to incorporate them into our material. There is also a master class on compering, and running your own gig.
There will be advice on how to market yourself and a list of contacts to secure future gigs on the comedy circuit in Brighton, London and further afield. At the end of the course there will be the opportunity to relive the graduation gig with the showcase performance. As in the beginner's week course, writing material for the pre-work is a must.
If you want to take your Comedy and take it to the next level, this course will help. We'll finish the course with an action plan and clear goals to work towards.
Book your place on: The Advanced Comedy Course
Date: Saturday 16th and 17th January 2021
Time: Saturday 10.30- 3.30pm, Sunday 11.30-4pm
Cost: £210/£190
Location: The Southern Belle, Waterloo Street, Brighton
                              Standard   £210                  Early Bird £190 (60 days before start) 
"I did the advanced comedy course and had a blast, Louise is a fantastic teacher and coach. I wish I had done the beginners class too with Louise. I came back to comedy after my anxiety held me back, during this course I got my confidence back and will continue to give it a go. Don't just think about it just do it it could be the best thing you ever do."   Nat Robinson