It's been a very busy start to the year for Brighton Comedy Course. For the third year running the Beginners Comedy Course sold out. We moved to a lovely new premises, The Southern Belle in Hove, which as well as having a proper stage, also has its own PA system, great practice for our students.
This bunch are taking to the stage next Thursday the 11th of April at Funky Fish.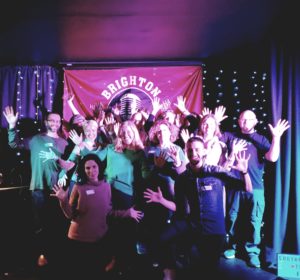 They have worked hard and have had me laughing every week. They're gonna be brilliant. Come along, or watch the graduation videos's on Brighton Comedy Course You tube channel
We've booking for the next Beginners course on May 28th. There's lots of comedy options coming up though for people who want to try comedy out.
Here's what's coming up. Drop me a line if you have any questions, otherwise I'll see you at the Funky Fish next Thursday.