I am super excited to announce the launch of the new Step Up your Stand Up Workshops.
These workshops are for comedians working the circuit, not exclusively for Brighton Comedy Course graduates. For any comedian who wants to stand back and check what's working well & what needs work. There will be plenty of expert advice, the opportunity to write lots of new material and hopefully lots of laughs. With the prework and actions to work on throughout the year I think these workshops are going to be a big hit.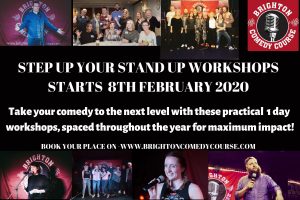 I've lost count of the amount of times I've been asked to run regular workshops like these that will motivate comedians to keep improving and progressing after the Advanced course. I think these workshops will do well and I wish I'd had something similar when I was aiming towards bigger comedy achievements (in 2000 BC.)
Delighted that I'll be able to work with so many Brighton comedy course students but also to see the mix and development of many comedians working the circuit.
If you'd like more info check out the Step up Your Stand Up page on our website.